Episodes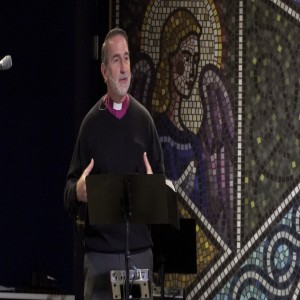 Friday Jan 31, 2020
Friday Jan 31, 2020
MESSAGE SUMMARY: Jesus died for you and your sinful nature. It is through the death and Resurrection of Jesus that you are offered the forgiveness of your sins and an inner healing in your life. In John 10:27-28, Jesus reiterates His commitment to those who commit their lives to Him and are His followers: "My sheep hear my voice, and I know them, and they follow me. I give them eternal life, and they will never perish, and no one will snatch them out of my hand.". Some Christians mess up because Christians, too, are sinners. However, Jesus gave you a pathway out from the burden of your sins that leads to your Eternal Life. In Matthew 26:27-28, Jesus, again, reaffirmed His commitment to His followers through the Holy Eucharist: "And he took a cup, and when he had given thanks he gave it to them, saying, 'Drink of it, all of you, for this is my blood of the covenant, which is poured out for many for the forgiveness of sins.'".
Many non-Christians profess that the reason they choose not to believe and follow Jesus is that they "only see people in churches and those professing to be 'Christians' as 'hypocrites'". We all have been offered the forgiveness of our sins by God's Grace, through Jesus, through our faith in Jesus and our confession of sins. However, those refusing to follow Jesus, for whatever reason, have made the personal choice not to God's offer of Salvation and Eternal Life. Since we are all sinners, what better place to find sinners than in a church where "Christian sinners" are attempting to live a new life by following Jesus and His Gospel of faith and Salvation. Yes, churches do have "hypocrites" in its total group of sinners. However, unlike those who refuse to follow Jesus because they see Jesus followers as "hypocrites", "Christian hypocrites", like other sinners, have a way out through their faith, confessions, and a commitment to trying to live a sinless life. Do you have an excuse not to follow Jesus? Have you found a way out without following Jesus?
TODAY'S AFFIRMATION: Today, because of I am filled with the Holy Spirit, I will not be controlled by my Heartlessness. Rather, I will walk in the Spirit's fruit of Kindness. "The fruit of the Spirit is love, joy, peace, patience, kindness, goodness, faithfulness, gentleness and self-control." (Galatians 5:22f).
SCRIPTURE REFERENCE (ESV):  Romans 1:16-17; Psalms 37:39; Matthew 26:27-28; Psalms 8:1-9.
THIS SUNDAY'S AUDIO SERMON: You can listen to Archbishop Beach's Current Sunday Sermon: "It's About Time: Part 2 – Overstressed, Overloaded, and Maxed Out Lives", at our Website: https://awtlser.podbean.com/
WEBSITE LINK TO DR. BEACH'S SERMON VIDEO: https://awordfromthelord.org/video-archives/
DONATE TO AWFTL: https://mygiving.secure.force.com/GXDonateNow?id=a0Ui000000DglsqEAB