Episodes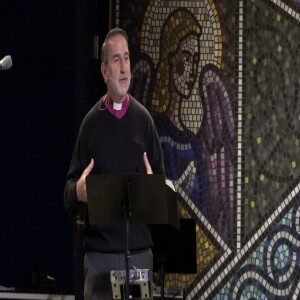 Sunday Oct 30, 2022
Sunday Oct 30, 2022
The Old Testament Law of "an eye for an eye" Was Reversed by Jesus in His "Great Commandment" in which Jesus Followers Are "to Love"
MESSAGE SUMMARY: Jesus turned the prior teachings of the Law on their heels by commanding that personal relationships be based on "Love" not "Law and Justice". Prior to the New Covenant of Jesus the Christ, the Jewish Law included "an eye for an eye . . .". Jesus, in Matthew 5:38-39, provides the cornerstone of His Greatest Commandment – "love thy neighbor as thy self" when He tells us: "You have heard that it was said, 'An eye for an eye and a tooth for a tooth.' But I say to you, Do not resist the one who is evil. But if anyone slaps you on the right cheek, turn to him the other also.". The Old Testament Law was for the Judges to help the courts punish people in an appropriate and consistent way. God's Grace provided us with the means, if we so choose, for the forgiveness of our sins and for our Salvation and Eternal Life when our eternal death was the "Law and Justice" outcome of our sins.  God's Grace sets the model for us to live a life of "Love" – "Love" God's way.
TODAY'S PRAYER: Keeping the Sabbath, Lord, will require a lot of changes in the way I am living life. Teach me, Lord, how to take the next step with this in a way that fits my unique personality and situation. Help me to trust you with all that will remain unfinished and to enjoy my humble place in your very large world. In Jesus' name, amen.    Scazzero, Peter. Emotionally Healthy Spirituality Day by Day (p. 129). Zondervan. Kindle Edition.
TODAY'S AFFIRMATION: Today, I affirm that because of what God has done for me in His Son, Jesus, RIGHTEOUS IN GOD'S EYES. God made Him who had no sin to be sin for us, so that in Him we might become the righteousness of God. 2 Corinthians 5:21
SCRIPTURE REFERENCE (ESV): Matthew 5:38-42; Hebrews 9:15; 1 John 4:19; Psalms 77b:11-20.
A WORD FROM THE LORD WEBSITE: www.AWFTL.org.
THIS SUNDAY'S AUDIO SERMON: You can listen to Archbishop Beach's Current Sunday Sermon: "Turkeys and Eagles, Part 1: Called as an "Eagle" But Saved as a "Turkey"" at our Website: https://awordfromthelord.org/listen/   
DONATE TO AWFTL: https://mygiving.secure.force.com/GXDonateNow?id=a0Ui000000DglsqEAB