Episodes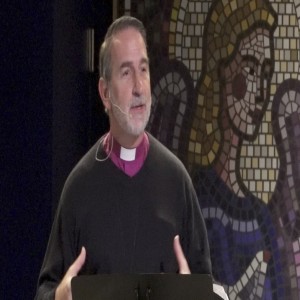 Saturday Oct 24, 2020
Saturday Oct 24, 2020
Anxiety About Earthly Death Related to Issues of Today Is Needless; Jesus Said: "Do not be anxious", but Not Being Ready for Your Earthly Death Is Foolish
MESSAGE SUMMARY:
The earthly byproducts of today's Coronavirus and election activities include the real potentiality of severe illness and death which produce new levels of fear and uncertainty in our lives today. Having yourself and the ones you love live with the constant material risk of death, from a source about which few were aware only eight months ago, can be a source of anxiety-driven health issues. Daily, the media depicts a world with increasing fear of earthly death while peace in our lives seems to be losing to the virus and civil discourse. You must constantly remember Jesus' promise to you, in Matthew 6:34, that His followers should NOT BE anxious: "Therefore do not be anxious about tomorrow, for tomorrow will be anxious for itself. Sufficient for the day is its own trouble.". However, you must be ready for the end of your earthly life and the return of the Lord. In 1 Thessalonians 5:1-2, Paul writes to the Christians at the church in Thessalonica: "Now concerning the times and the seasons, brothers, you have no need to have anything written to you. For you yourselves are fully aware that the day of the Lord will come like a thief in the night. While people are saying, 'There is peace and security,' then sudden destruction will come upon them as labor pains come upon a pregnant woman, and they will not escape. But you are not in darkness, brothers, for that day to surprise you like a thief. For you are all children of light, children of the day. We are not of the night or of the darkness. So, then let us not sleep, as others do, but let us keep awake and be sober.". Are you ready for your earthly death? Are you sure in your Salvation? If not, make yourself ready and keep ready! God's Grace and the Gospel of Jesus prepare you for your earthly death while providing the means for your Eternal Life!
TODAY'S AFFIRMATION: Today, I affirm that, because I am in Jesus Christ, I will seek God's perspective on my situation. For I know that in all things God  works together for good to those of us who love Him and are called according to His purpose. (From Romans 8:28).
SCRIPTURE REFERENCE (ESV): Matthew 10:37-39; 1 Corinthians 9:12-23; James 3:13-18; Hebrews 4:15-16; Psalms 65:1-13.
THIS SUNDAY'S AUDIO SERMON: You can listen to Archbishop Beach's Current Sunday Sermon: "We All Need "Hope" in Today's World of Fear, Doubt in Our Faith, and Feelings of "Hopelessness"; and God Is this "Hope"", at our Website: https://awtlser.podbean.com/
WEBSITE LINK TO DR. BEACH'S SERMON VIDEO – "As a Christian, You Are Equipped for God's Purpose; Be Courageous and Let Others See Jesus In You for God Is With You":  www.AWFTL.org/watch
DONATE TO AWFTL: https://mygiving.secure.force.com/GXDonateNow?id=a0Ui000000DglsqEAB