Episodes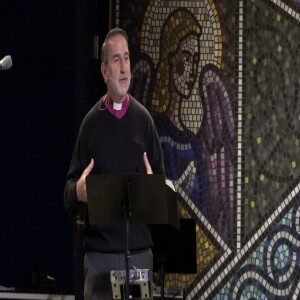 Saturday Dec 03, 2022
Saturday Dec 03, 2022
As a Jesus Follower, Do You Forgive Others Before They Forgive You, Just as Jesus Did for You on the Cross?
MESSAGE SUMMARY: We modern-day Christians are bad about living in our bitterness towards others whom we believe have "wronged us". However, in Luke 23:33-34, Jesus set the example and His expectations for the "forgiveness of others" when He sacrificed Himself on cross for us: "And when they came to the place that is called The Skull, there they crucified him, and the criminals, one on his right and one on his left. And Jesus said, 'Father, forgive them, for they know not what they do.' And they cast lots to divide his garments.". We are great at putting on our Christian face for the public. On the other hand, we have someone in our lives, when even their name is mentioned, we become hateful and bitter towards this person in our actions and words. Jesus modeled what we are to do from the cross -- we are to forgive the person that elicits this kind of bitter response in our lives. We need to release this person and then get on with our lives. As Jesus said: "Father, forgive them for they know not what they do.".
TODAY'S PRAYER: Lord, help me to grab hold of you today. I need you. Set me free to begin reorienting my life around you, and you alone. Help me to pay attention to and honor how you have uniquely made me. Thank you for the gift of rest. In Jesus' name, amen.       Scazzero, Peter. Emotionally Healthy Spirituality Day by Day (p. 122). Zondervan. Kindle Edition.
TODAY'S AFFIRMATION: Today, I affirm that, because I am in Jesus Christ, I will trust in the Lord with all my heart. I will trust in the Lord with all of my heart and lean not on my own understanding.  In all my ways I will seek to know Him, and He will make my pathways straight.   From Proverbs 3:5f
SCRIPTURE REFERENCE (ESV): Matthew 6:14-15; Matthew 6:9-13; Ephesians 5:1-2; Psalms 13:1-6.
A WORD FROM THE LORD WEBSITE: www.AWFTL.org.
THIS SUNDAY'S AUDIO SERMON: You can listen to Archbishop Beach's Current Sunday Sermon: "From the Gospel of Matthew (24:1-51): "Jesus is Coming"", at our Website: https://awordfromthelord.org/listen/
DONATE TO AWFTL: https://mygiving.secure.force.com/GXDonateNow?id=a0Ui000000DglsqEAB