Episodes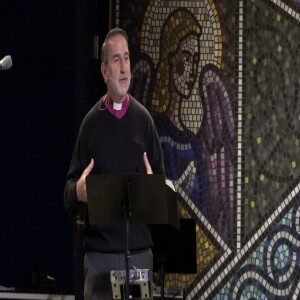 Thursday Feb 04, 2021
Thursday Feb 04, 2021
Christians, in the Past and Today, Have Faced Derision and Persecution, Even Death; But Addresses God Impossible Situations and Transforms Our Lives
MESSAGE SUMMARY: The Disciples did not get to their life roles, after Jesus Resurrection and Ascension, without much grief and anguish; but Jesus transformed their lives. God addresses impossible situations in our lives, too; and then He transforms our lives, through His grace, into something of beauty. Jesus' Cross was an impossible situation, but now we view the Cross as a sign of triumph -- our triumph as believers and followers of Jesus! In John 10:27-30, Jesus succinctly describes how He transforms the lives of those that follow Him: "My sheep hear my voice, and I know them, and they follow me. I give them eternal life, and they will never perish, and no one will snatch them out of my hand. My Father, who has given them to me, is greater than all, and no one is able to snatch them out of the Father's hand. I and the Father are one.". Additionally, in today's uncertainties and fears and with the new and uncharted paths that our life today demands that we follow, Paul, in Colossians 1:5-6, gives us hope through God's Grace and the Gospel: "because of the hope laid up for you in heaven. Of this you have heard before in the word of the truth, the gospel, which has come to you, as indeed in the whole world it is bearing fruit and growing—as it also does among you, since the day you heard it and understood the grace of God in truth".
TODAY'S AFFIRMATION: Because of who I am in Jesus Christ, I will not be driven by Lust. Rather, I will abide in the Lord's Perfect Provision. "I am the vine; you are the branches. If a man remains in Me and I in him, he will bear much fruit; apart from Me you can do nothing." (John 15:5).
SCRIPTURE REFERENCE (ESV): Colossians 1:5-6; John 11:25-26; John 10:14-18; Psalms 31a:1-12.
THIS SUNDAY'S AUDIO SERMON: You can listen to Archbishop Beach's Current Sunday Sermon: "The Blessing of Our Faith, as Followers of Jesus, Is the Presence of Jesus In Our Lives, Irrespective of Our Life's Circumstances", at our Website: https://awtlser.podbean.com/
WEBSITE LINK TO DR. BEACH'S SERMON VIDEO – "We All Need "Hope" in Today's World of Fear, Doubt in Our Faith, and Feelings of "Hopelessness"; and God Is this "Hope"":  www.AWFTL.org/watch
A WORD FROM THE LORD WEBSITE: www.AWFTL.org.
DONATE TO AWFTL: https://mygiving.secure.force.com/GXDonateNow?id=a0Ui000000DglsqEAB