Episodes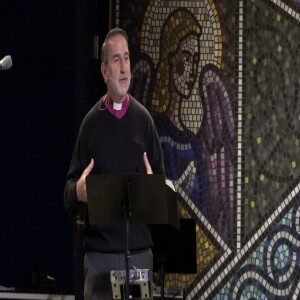 Tuesday Jul 12, 2022
Tuesday Jul 12, 2022
God Blesses You in Your Obedience, but God Leaves You to the Consequences of Your Sin in Your Disobedience
MESSAGE SUMMARY: Your relationship with God is only between you and God. God desires relationships with each of us, individually, even though you may have been fortunate enough to have a Godly mother, father, siblings, and/or a spouse. God has given us covenants upon which to build His relationship with you, as Paul tells us in Romans 8:34-35: "Who is to condemn? Christ Jesus is the one who died—more than that, who was raised—who is at the right hand of God, who indeed is interceding for us. Who shall separate us from the love of Christ? Shall tribulation, or distress, or persecution, or famine, or nakedness, or danger, or sword?". The people of the Old Testament found that living apart from God's covenant relationship brought disaster. God is a covenant God; He will bless you if you obey Him. If you disobey God, God leaves you to the consequences of your sins.
TODAY'S PRAYER: Lord, you know how difficult it is for me to be in silence before you. At times it feels almost impossible, given the demands, distractions, and noise all around me. I invite you to lead me to a quiet, silent place before you — to a place where I can hear you as Elijah did. In Jesus' name, amen.     Scazzero, Peter. Emotionally Healthy Spirituality Day by Day (p. 123). Zondervan. Kindle Edition.
TODAY'S AFFIRMATION: Today, because of I am filled with the Holy Spirit, I will not be controlled by my Despair. Rather, I will walk in the Spirit's fruit of Joy. "The fruit of the Spirit is love, joy, peace, patience, kindness, goodness, faithfulness, gentleness and self-control." (Galatians 5:22f).
SCRIPTURE REFERENCE (ESV):  1 Corinthians 11:25-26; Leviticus 26:9-12; Nehemiah 9:32; Psalms 135a:1-11.
A WORD FROM THE LORD WEBSITE: www.AWFTL.org.
THIS SUNDAY'S AUDIO SERMON: You can listen to Archbishop Beach's Current Sunday Sermon: "Are You Willing to Speak Up and Share, Publicly, Your Relationship with Jesus?", at our Website: https://awordfromthelord.org/listen/
DONATE TO AWFTL: https://mygiving.secure.force.com/GXDonateNow?id=a0Ui000000DglsqEAB