Episodes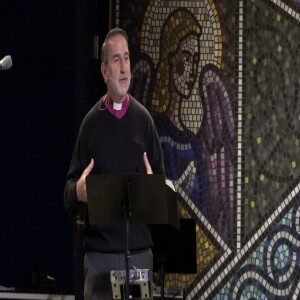 Tuesday Oct 04, 2022
Tuesday Oct 04, 2022
God Sees a Jesus Follower as Being "In Christ"; Therefore, God Sees a Jesus Follower as His Son or Daughter
MESSAGE SUMMARY: As Followers of Jesus, you are "In Christ" -- God looks at you, as a Jesus Follower, and He sees Jesus in you. Throughout the Epistles we find: "In Christ" or "In Him". In Galatians 3:14, Paul tells you that your faith in Jesus makes you "In Christ" and a recipient of God's Covenant with Abraham: "so that in Christ Jesus the blessing of Abraham might come to the Gentiles, so that we might receive the promised Spirit through faith.". Also, Paul goes even further, in Galatians 3:25-28, to tell you that, through your faith in Jesus, you no longer need any kind of intermediary because you are "In Christ" and you have a personal relationship with God, the Creator of the Universe: "But now that faith has come, we are no longer under a guardian, for in Christ Jesus you are all sons of God, through faith. For as many of you as were baptized into Christ have put on Christ. There is neither Jew nor Greek, there is neither slave nor free, there is no male and female, for you are all one in Christ Jesus. But now that faith has come, we are no longer under a guardian.". When God sees you, "In Christ" as a Jesus Follower, He sees Jesus, the Son. Therefore, God sees you as His son or daughter.
TODAY'S PRAYER: Lord, everything in me resists following you into the garden of Gethsemane to fall on my face to the ground before you. Grant me the courage to follow you all the way to the cross, whatever that might mean for my life. And then, by your grace, lead me to resurrection life and power. In Jesus' name, amen.   Scazzero, Peter. Emotionally Healthy Spirituality Day by Day (p. 100). Zondervan. Kindle Edition.
TODAY'S AFFIRMATION: Today, because of I am filled with the Holy Spirit, I will not be controlled by my Self-Centeredness. Rather, I will walk in the Spirit's fruit of Love. "The fruit of the Spirit is love, joy, peace, patience, kindness, goodness, faithfulness, gentleness and self-control." (Galatians 5:22f).
SCRIPTURE REFERENCE (ESV): Romans 3:21-26; Romans 6:5-11; Romans 6:22-23; Psalms 63:1-11.
A WORD FROM THE LORD WEBSITE: www.AWFTL.org.
THIS SUNDAY'S AUDIO SERMON: You can listen to Archbishop Beach's Current Sunday Sermon: "A Is What You "SAY" About Your Priorities In Alignment with What You "DO"?", at our Website: https://awordfromthelord.org/listen/
DONATE TO AWFTL: https://mygiving.secure.force.com/GXDonateNow?id=a0Ui000000DglsqEAB