Episodes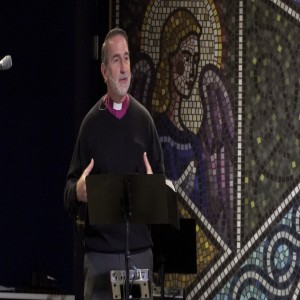 Sunday Jul 19, 2020
Sunday Jul 19, 2020
DEVOTIONAL VIDEO
MESSAGE SUMMARY:
Be Strong & Courageous (Commencement -- Reformed Episcopal Seminary; Oreland, PA)
Courage is acting and speaking even though you are afraid. If you follow God's call and seek His will to live and act in His Word, there is no reason to be overcome by fear because: "your God is with you wherever you go". After God's grace through Jesus, God is in you through His gift to you of the Holy Spirit. You get strong by exercising the "muscles" of your faith and your commitment to God's will and His word – often pushing your "commitment to God" beyond levels you thought possible. In Joshua 1:9, God commands you to be strong and courageous because He is with you: "Have I not commanded you? Be strong and courageous. Do not be frightened, and do not be dismayed, for the LORD your God is with you wherever you go.". When you obey God's commands, He steps into your life with support for you to achieve His command. You have been equipped, as God told Jeremiah in Jeremiah 29:11-12, for God's purposes in your life: "For I know the plans I have for you, declares the LORD, plans for welfare and not for evil, to give you a future and a hope. Then you will call upon me and come and pray to me, and I will hear you.".
Spiritual strength comes to you from having God with you and in you.
TODAY'S AFFIRMATION: I affirm that because of what God has done for me in His Son, Jesus, I AM A CHILD OF GOD. Yet to all who received Him, to those who believed in His Name, He gave the right to become children of God-- children born not of natural descent, nor of human decision or a husband's will, but born of God. (John 1:12f).
SCRIPTURE REFERENCE (ESV): Jeremiah 29:11-12; Joshua 1:9; Joshua 1:6; Joshua 1:7; James 1:22; Hebrews 10:23; Joshua 1:8: 2 Timothy 3:16-17; Matthew 28:16-20. Ephesians 6:10-12.
THIS SUNDAY'S AUDIO SERMON: You can listen to Archbishop Beach's Current Sunday Sermon: "America Will Not Survive as a Nation Unless the People of God Stand Up and Plead for Our Survival - Pray for America": at our Website: www.AWFTL.org/listen/.
WEBSITE LINK TO DR. BEACH'S SERMON VIDEO – "Cultural Turmoil and Health Threats Bring Fear, But Your Fear Is Overcome By Following God's Call and Seeking His Will":  www.AWFTL.org/watch
DONATE TO AWFTL: https://mygiving.secure.force.com/GXDonateNow?id=a0Ui000000DglsqEAB