Episodes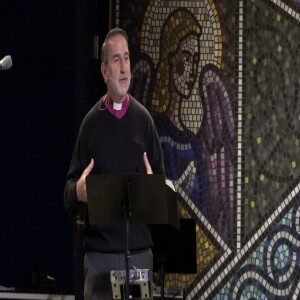 Friday Nov 04, 2022
Friday Nov 04, 2022
Is Your Life Driven by Anxiety, or Do You Walk with the Holy Spirit Who Is Working Out God's Purpose in Your Life?
MESSAGE SUMMARY: Where is God's involvement in your life? God's "life interventions", in your life, can provide either a success or a setback. For example, we lose a job; or we get a job. God can turn our world upside down. It is not that we have done anything wrong; it is the Holy Spirit working out God's purpose in your life. We need to hear what the Angels said in Mathew 1:20: "an angel of the Lord appeared to him in a dream, saying, 'Joseph, son of David, do not fear to take Mary as your wife, for that which is conceived in her is from the Holy Spirit.'"; and we need to hear what Jesus said in Mathew 6:34: "Therefore do not be anxious about tomorrow, for tomorrow will be anxious for itself. Sufficient for the day is its own trouble.". If we follow the lead of the Holy Spirit in all aspects and seasons of our lives, we can see the birthing of another miracle in our lives.
TODAY'S PRAYER: Lord, I now take a deep breath and stop. So often I miss your hand and gifts in my life because I am preoccupied and anxious. Grant me the power to pause each day and each week to simply rest in your arms of love. In Jesus' name, amen.   Scazzero, Peter. Emotionally Healthy Spirituality Day by Day (p. 132). Zondervan. Kindle Edition.
TODAY'S AFFIRMATION: Today, because of I am filled with the Holy Spirit, I will not be controlled by my Heartlessness. Rather, I will walk in the Spirit's fruit of Kindness. "The fruit of the Spirit is love, joy, peace, patience, kindness, goodness, faithfulness, gentleness and self-control." (Galatians 5:22f).
SCRIPTURE REFERENCE (ESV): John 20:19-25; Luke 24:46-49; John 1:12; Psalms 78e:49-60.
A WORD FROM THE LORD WEBSITE: www.AWFTL.org.
THIS SUNDAY'S AUDIO SERMON: You can listen to Archbishop Beach's Current Sunday Sermon: "Turkeys and Eagles, Part 1: Called as an "Eagle" But Saved as a "Turkey"", at our Website: https://awordfromthelord.org/listen/
DONATE TO AWFTL: https://mygiving.secure.force.com/GXDonateNow?id=a0Ui000000DglsqEAB