Episodes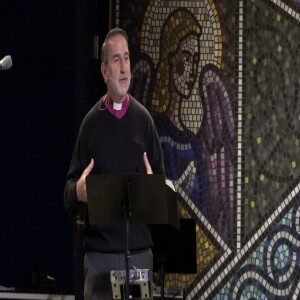 Tuesday Sep 19, 2023
Tuesday Sep 19, 2023
Jesus Followers Will Be Tempted, but God "will not let you be tempted beyond your ability . . . to endure"
MESSAGE SUMMARY: You will be tempted again and again, but the temptation itself is not the sin. The sin resides in your grabbing onto the temptation; dwelling on the temptation; and following through on the temptation. Jesus was tempted, and He always faced temptation by quoting scripture to the temptation source. As Jesus tells you about Temptation and sin in Matthew 18:7-8: "Woe to the world for temptations to sin! For it is necessary that temptations come, but woe to the one by whom the temptation comes! And if your hand or your foot causes you to sin, cut it off and throw it away. It is better for you to enter life crippled or lame than with two hands or two feet to be thrown into the eternal fire.". Also, Paul, in 1 Corinthians 10:13, confirms that God will not permit us to be tempted in a manner that we will be unable to resist: "No temptation has overtaken you that is not common to man. God is faithful, and he will not let you be tempted beyond your ability, but with the temptation he will also provide the way of escape, that you may be able to endure it.". You can follow Jesus' example by using scripture to deal with a temptation – there is scripture to deal with every temptation that you may face.
TODAY'S PRAYER: Most merciful God I confess that I have sinned against you in thought, word, and deed, by what I have done, and by what I have left undone. I have not loved you with my whole heart; I have not loved my neighbors as myself. I am truly sorry and I humbly repent. For the sake of your son Jesus Christ, have mercy on me and forgive me; that I might delight in your will, and walk in your ways, to the glory of Your Name. Amen. 
TODAY'S AFFIRMATION: Today, because I am filled with the Holy Spirit, I will not be controlled by my Anxiety. Rather, I will walk in the Spirit's fruit of Peace. "The fruit of the Spirit is love, joy, peace, patience, kindness, goodness, faithfulness, gentleness and self-control." (Galatians 5:22f).
SCRIPTURE REFERENCE (ESV): Matthew 4:1-11; 1 Corinthians 10:13; Hebrews 4:14-16; Psalms143:1-12.
A WORD FROM THE LORD WEBSITE: www.AWFTL.org.
THIS SUNDAY'S AUDIO SERMON: You can listen to Archbishop Beach's Current Sunday Sermon: "Jesus the Divider", at our Website: https://awordfromthelord.org/listen/
DONATE TO AWFTL: https://mygiving.secure.force.com/GXDonateNow?id=a0Ui000000DglsqEAB