Episodes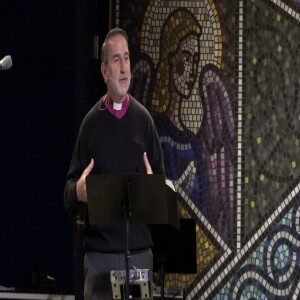 Saturday Apr 29, 2023
Saturday Apr 29, 2023
Jesus Says "Self-Denial" Is Required of Jesus Followers: "let him deny himself and take up his cross and follow me"
MESSAGE SUMMARY: In a time in which we hear so much about self-help, self-image, and self-actualization, Jesus is saying self-denial is the way to life. Jesus tells us, in Matthew 16:24, that self-denial is a key element in following Him: "Then Jesus told his disciples, 'If anyone would come after me, let him deny himself and take up his cross and follow me.'". "Taking up one's cross" means to die to self-ambitions. When we die to our self-ambitious and put them on the cross, Jesus' life moves through us: "Not my will but Thy will.". By denying self, we become alive in Jesus; and His Spirit flows through us – we experience eternal life and abundant life.
TODAY'S PRAYER: Lord, everything in me resists following you into the garden of Gethsemane to fall on my face to the ground before you. Grant me the courage to follow you all the way to the cross, whatever that might mean for my life. And then, by your grace, lead me to resurrection life and power. In Jesus' name, amen.   Scazzero, Peter. Emotionally Healthy Spirituality Day by Day (p. 100). Zondervan. Kindle Edition.
TODAY'S AFFIRMATION: Today, I affirm that, because I am in Jesus Christ, I will entrust to Him my future. I know whom I have believed, and am convinced that he is able to guard what I have entrusted to him for that day.  From 2 Timothy 1:12
SCRIPTURE REFERENCE (ESV): Matthew 16:24; Mathew 10:38-39; Galatians 6:14-17; Psalms 141:1-10.
A WORD FROM THE LORD WEBSITE: www.AWFTL.org.
THIS SUNDAY'S AUDIO SERMON: You can listen to Archbishop Beach's Current Sunday Sermon: "The Upper Room Part 1: The Promise of the Spirit (Apostles Anglican Church; Knoxville, TN)", at our Website: https://awordfromthelord.org/listen/
DONATE TO AWFTL: https://mygiving.secure.force.com/GXDonateNow?id=a0Ui000000DglsqEAB